Two years after the #metoo movement had its trending moment a new report finds complaints of harassment and discrimination still surging…
The 2019 Ethics & Compliance Hotline Benchmark Report – released in April – says reports of both harassment and discrimination in the workplace are increasing across the board. 
"Between 2016 and 2018, reports of harassment increased by a substantial 18 percent," says the report. "More specifically, between 2017 and 2018 reports of harassment increased by 8.5 percent. It is important to note that the first high-profile harassment case occurred in the fourth quarter of 2017."
"These findings should serve as notice to employers that the #MeToo movement, which started in the fourth quarter of 2017, is not going away," says the report. 
In addition, the report, produced by Navex, also found an increase of 18 percent in reports of discrimination between 2017 and 2018. Substantiation rates for discrimination however are much lower than average substantiation rate. 
This may be due to the subtle and sometimes subjective nature of discrimination allegations posits the report's authors: "Often a claim of discrimination or retaliation is based on a perception that a group or individual is acting in a certain way, rather than on a clear statement or clear evidence; substantiating a case based on perception can be very difficult."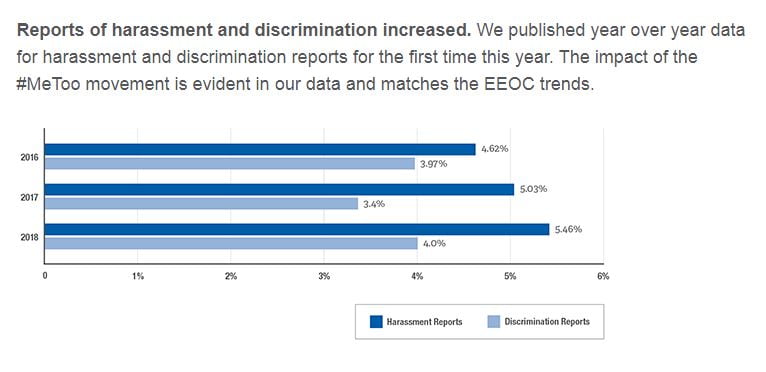 The report also finds good reasons to invest in both a whistleblowing hotline (those businesses with multiple methods of reporting wrongdoing receive significantly more tipoffs than those who don't) as well as ongoing ethical training for employees. 
"It is ultimately not the number of reporting channels that matter," says the report, "but that employees are aware of them and trust their effectiveness. It's critical to train and ensure employees are aware of all available reporting methods."
"The same applies for tracking all other intake sources such as open-door conversations, letters to leadership, emails and walk-ins to the compliance office. Monitoring the methods employees choose for reporting indicates which are preferred or easy to access, and which methods employees may not know are available to them. Employee choice will vary depending on the makeup of the workforce and their access to phones, computers or onsite human resources."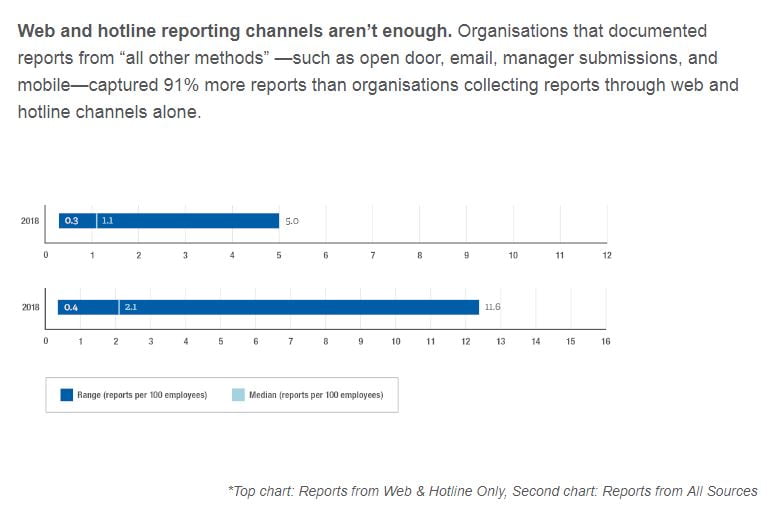 Finally, the report says that case closure times are improving as businesses work hard to retain employee trust in an increasingly transparent and accountable business environment.
"Earning employees' trust is not a simple task, especially when it comes to many of the sensitive topics that are reported to a hotline," says the report. 
"Ensuring that employees know their concerns are important and are being seriously considered is a vital step towards that task. If months go by without resolution, or weeks go by without indication of action, reporters can feel that their concerns are not being heard and the credibility of the program can be damaged or lost."
"Externally, as legislation continues to affect whistleblower programs – limiting time to complete internal investigations, providing incentives for whistleblowing to external agencies and more – earning and retaining employees trust will continue to rely heavily on their perceptions."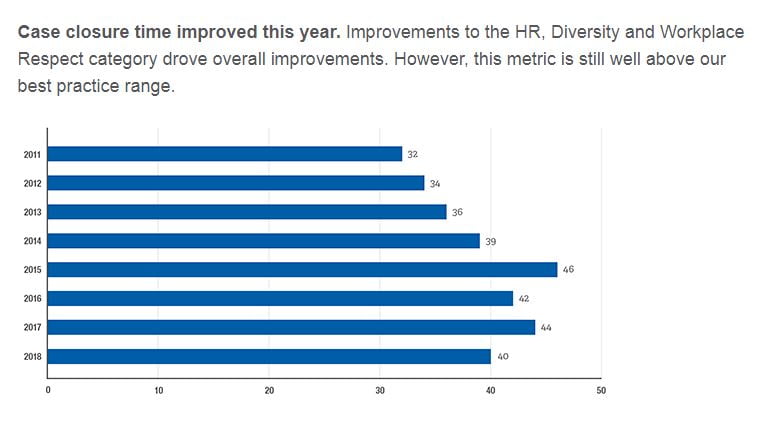 Download the full report here.